Avocado
[Americana Gloss Enamels]
Gloss opaque Enamel for glass, ceramics, wood etc., 59 ml (2 oz)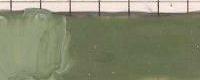 Americana Gloss Enamels adhere to wood, glass, papier mache, plaster, resin, ceramics, and many other craft surfaces.
Glass application can be baked in the oven for improved adhesion.
Our versatile new gloss paint is perfect for painting glassware, wood items as well as a variety of other surfaces.
Decorate ordinary glass items, flea market finds and more for your home.
Embellish or personalize glass, ceramic and wood ornaments for holiday gift giving.
Painted glassware may be baked for increased durability.
Goes equally well on porous surfaces-no sealer required. Use Americana Gloss Enamels for all of your projects.
Painting Surfaces:
Canvas, Ceramic bisque, Foam core, Glass, Glazed ceramics, Hard plastics, MDF, Metal, Papier mache, Terra cotta, Wall board, Wood.
Full description
with additional Details see
Here
.
DecoArt, USA
59 ml / 70 g DecoArt
Americana Gloss Enamels