Return to
Colors Shop
|
Colors Review and Charts
Americana Gloss Enamels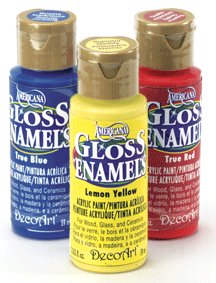 Americana Gloss Enamels adhere to wood, glass, papier mache, plaster, resin, ceramics, and many other craft surfaces.
Glass application can be baked in the oven for improved adhesion.
Our versatile new gloss paint is perfect for painting glassware, wood items as well as a variety of other surfaces.
Decorate ordinary glass items, flea market finds and more for your home.
Embellish or personalize glass, ceramic and wood ornaments for holiday gift giving.
Painted glassware may be baked for increased durability.
Goes equally well on porous surfaces-no sealer required.
Use Americana Gloss Enamels for all of your projects.
Painting Surfaces:
Canvas, Ceramic bisque, Foam core, Glass, Glazed ceramics, Hard plastics, MDF, Metal, Papier mache, Terra cotta, Wall board, Wood.
Features and Advantages:
- Glossy sheen
- Intermixable
- Dries to a hard finish
- Can be baked on glass for added durability
- Can be used with stencils
- Non-toxic
- Soap and water clean-up when wet
Preparation:
-
Glass/Glazed Ceramic/plastic:
Clean with alcohol and paper towel or soft cloth. Must be completely dry before painting.
-
Ceramic bisque/foam core/MDF/terra cotta/wall board:
Make sure surface is clean and free of dust or debris.
-
Metal:
Clean with vinegar/water mix or alcohol. Dry completely before painting.
-
Wood:
Sand any rough areas and remove dust.
Application:
- When painting on glass, allow first coat to dry thoroughly before applying additional coats to avoid lifting.
- To use design patterns for transparent glass, position and secure pattern with tape on the inside or reverse side of glass item. Pattern lines may be seen easily through the glass so transferring is not necessary.
- Wash tools and clean work area immediately after use.
- Close lid tightly when not in use to prolong shelf life.
- Allow to air cure for 21 days or allow painted project to dry 48 hours.
Place in cold oven; set temperature at 325°F (160°C);
bake 30 minutes;
turn off oven and crack open door.
Allow project to cool down before removing.
NOTE: Not for direct contact with food.
- To remove dry paint from project before baking, glass items may be soaked in warm water to soften.
Tools for application:
- Acrylic Brushes
- Sponges
Appearance:
- Wet: thick, creamy and smooth
- Dry: glossy sheen
Techniques/Typical Uses:
- Decorative Painting/Stroke work: Use acrylic brushes to do a variety of strokes and techniques.
- Basic Brush-on: Use regular acrylic brushes with soft bristles. Brush back and forth to smooth out on wood but don't overwork on slick surfaces like glass, metal and glazed ceramic surfaces.
- Sponging: A nice eggshell finish can be achieved on most surfaces with cosmetic sponges. Dip sponge into paint. Pounce several times on palette to load sponge evenly. Pounce on surface changing direction as you work. Some colors may require additional coats. For an even basecoat, it is best to apply a thin coat of paint, let it dry then apply additional paint rather than one heavy coat. A rougher finish is achieved with cellulose or sea sponges. Sponges with larger pores may cause air bubbles in the finish.
- Stenciling: Easily done on many surfaces. Tape or hold regular stencils in place or purchase special self-sticking stencils for glass. Apply paint with cosmetic sponge in stencil open areas. Immediately lift stencils. To get a clean image, hold one corner of stencil down with one finger. Lift by pulling stencil up from the opposite corner. Clean stencils immediately with DecoMagic or soap and water.
27 colors, 2 fl.oz (59 ml) bottle.
DecoArt, USA
Page Top
The Site first published at July 11, 2004.
Copyright ©2004 - 2023 www.Violtan.com