Solvent-based paints for Glass
You may view here more wide info about colors:
Paints Review and Colors Charts
See also:
-
The Notes about Paints
-
Water-based paints for glass and porcelain
(non-toxic, safe in use)
-
Water-based peelable Window Color
Solvent-based paints are
flammable
and may produce an allergic reaction.
They can be recommended for professional use (with air-brush in special rooms etc.).
Small amount of these paints you can use at home also with usual brushes and outliners for glass.
If the colors range includes primary (base) colors, you can produce any other color (at least in theory).
The Primary Colors are:
- Medium Yellow (close to Cadmium Yellow),
- Magenta or Fucshia (Pink with red hue, not a blue hue),
- Cyan (Blue with emerald hue)
- Black,
- White (not for all types of paints).
Red is not a base color in paints.
It is base color in Light (Sun Light, PC monitor etc.). The base colors in light are: Red, Green and Blue (with ultramarine hue).
Check it by mixing Red and Blue, or Red and Yellow in your paints set. If you produce clean Violet color (or Orange), it is OK. If you get dirty color (brown-violet, and brown-orange etc.), your colors are not base.
Red and Orange colors you can produce by mixing Yellow and Fucshia.
Base Colors of Lights and Paints
Terminal and TV base Colors
RGB-system: Red, Green, Blue
BLACK = No Light
WHITE = R+G+B
Red
Green
Blue
Paints and Printers Base Colors
CMYB-system: Cyan, Magenta, Yellow, Black
Black Ink
or Paint
WHITE = no colors,
paper color
Magenta
Yellow
Cyan
Transparent by WACO
WACO, Germany

Solvent-based professional colors
Glass bottle 50 ml (1.7 fl.oz.)
16 colors, Clair, Varnish and Cleaner.
Gold and Black Contours in tubes 20ml with fine line.
Transparent Paint for decorative glass painting.
These paints can be mixed with each other.
Apply a thick layer of paint
. Leave to dry for 30 min.
Apply a coat of protective varnish.
Object can now be washed a damp cloth when necessary.
Clean brush and painted surface with WACO cleaner only.
METHOD:
1.. Draw in the outlines freehand or following a pattern using the outlining paste direct from the tube.
Leave the outlines to dry for about two hours.
2. Now paint inside the outlines using a brush.
Leave the paint to dry for approx. two hours.
3. Use a brush to apply protective varnish over the painted object.
Violtan NOTES:
These paints do not have wide colors range, but they have all base colors:
White (12) - semitransperent paint,
Lemon (03) as a cadmium yellow middle,
Pink (05) as Fucshia,
Blue (07) as Cyan Blue,
Black (16) and
Clair (01) - to lightening colored paints.
Red (06) is not a base color - you can get it by mixing of Lemon and Pink paints.
Mixing of Red and Blue paints produces grey-brown-violet dirty color.
Mixing of Pink and Blue paints produces clean Violet - Pink Violet colors range.
Not any calor with Pink name (in other companies) is a base color.
Its shade must be "pink-red" (Fucshia).
Lemon in this range is close to cadmium yellow.
Blue is close to Cyan blue.
Transparent by WACO: Catalog of Paints
---
Pebeo Vitrail

Pebeo, France
Solvent based Paint.
Plastic Bottle 45 ml, 1.5 fl.oz.
28 colors, Medium Lightening, Outliners.
Brilliant Glossy Paint.
Transparent colour for glass, metal.
Color can be mixed together.
Imitates Stained Glass with Cerne Relief outliners.
Air drying: Touch dry in 1 hour and thoroughly dry in 8 hours.
Clean the brushes with turpentine substitute.
Keep out of reach of children.
If swallowed, seek medical advice immediatly and show this container or label (or this description on web-site).
Contains butanone-oxime.
May produce an allergic reaction.
.NOTES of Violtan:
These paints can be mixed with Transparent by WACO before painting.
You can make new colors by this way.
Pebeo Vitrail: Catalog of Paints
Up
---
Lefranc & Bourgeois Vitrail

Lefranc & Bourgeois, France
Solvent based,
Flammable
Paint.
Plastic or Glass Bottle 50 ml, 1.7 fl.oz.
17 colors and Colourless paint for lightening colored paints.
Transparent paint for use on glass, ceramics and metal.
Clean surface with methylated spirit before painting.
Harmful to aquatic organisms, may cause long-term adverse effects in the aquatic environment.
Repeated exposure may cause skin dryness or cracking.
Vapours may cause drowsiness and dizziness.
Keep out of reach of children.
NOTES:
1. White and Black paints are hiding (opaque).
2. These paints may be recommended for professional use only
L&B Vitrail: Catalog of Paints
Up
---
DecorFin Glass

DecorFin Glass
Royal Talens, Holland
Glass Transparent Colour
Solvent based,
Flammable
.
Glass Bottles 16 ml.
20 colors.
For glass, plexiglass, porcelain, synthetics.
Good lightfast and water-resistant, but not wash resistant.
Surface must be free of dust and grease.
Touch-dray in 3-6 h.
Clean brushes with white spirit.
Stir before use.
Dangerous for the environment
Decorfin Glass is a superb glass paint made from the finest raw materials.
The paint adheres well to all types of very smooth surfaces.
Another big advantage is that the paint is easy to apply: it does not streak and flows well.
When dry, the paint has a wonderful high gloss.
>Decorfin Glass can be used not only on glass and perspex, but also on glazed earthenware and tiles (in non-damp areas).
The selection consists of 20 colours, which can be used either pure or mixed together. 3 colours are opaque, namely white, grey and black; by mixing the colours with white, you can create beautiful transitions from transparent to opaque pastel colours.
Black and grey are ideal for painting opaque contours.
DecorFin Glass: Catalog of Paints
Up
---
Marabu glasART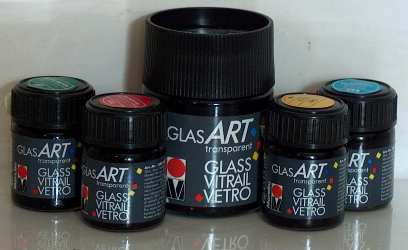 Marabu glasART
Marabu, Germany.
17 colors.
Glass Bottles 15 ml.and 50 ml (0.5 fl.oz and 1.7 fl.oz)
Solvent based,
Flammable
.
High-gloss transparent professional quality solvent-based paint.
For use on glass, ceramics, porcelain, acrylic, metal etc.
Very good flow, high fading resistance, dust-dry after one hour.
Weather-resistant if well adhered.
Clean brushes with Marabu-Cleaner & Thinner.
Oven-proof up to 150°C (302°F).
Marabu glasART: Catalog of Paints
Up
---
Hobby Line Glasmal Farbe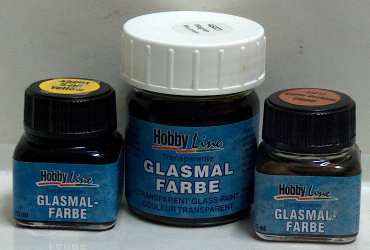 Hobby Line transparent glass paint.
C.Kreul, Germany.
20 colors + cleaner + colourless paint.
Glass Bottles 20 ml and 45 ml (0.68 fl.oz and 1.53 fl.oz)
Solvent based,
Flammable
.
For painting on glass, porcelain, metal, plastic foils, wood and leather.
White and Black paints are hiding (opaque).
Work without firing.
Drying time about half an hour.
Stir up thoroughly before use.
Use in well ventilated areas.
Do not inhale vapour.
Avoid contact with skin.
Lighten with clorless medium 45210
Clean brushes with thinner 45220
Contains 1-metoxy-2-propanol.
Keep out of reach of children. .
Violtan NOTES:
- These paints are unique from other known to us solvent-based paints for glass.
They include
metallic
colors - silver, gold and copper.
- You can use regular Thinner-21 to clean brushes.
Hobby Line Glasmal Farbe: Catalog of Paints.
Up
---
Steps for Creation the Artificial Stained-glass window in an Art-studio

Translation from Russian into English with AltaVista and Vitaly corrections.
Home › Tools › Babel Fish Translation › Translated Text
Babel Fish Translation Russian into English.

- The special waxed film glue on a clean Sheet of Glass.
- By special pencil make sketch drawing on the film. Leave on the film the strips 3-12 mm with width for selfadhesive lead strip.
- By sharp knife for the papers (Japanese knife) they cut out the pieces of film on the outlines and preserve these pieces. On the film remain only the contours for future lead strip.
- Are processed glass by sand blasting from the side with films. In this case the outlines remain unprocessed. Sections for the painting become milk-white, rough.
- By airstream from the compressor blow away the remainders of dust and sand from the glass. It is possible to wash glass and to dry (by foehn or in the sun).
- They glue up by cuts from the film all sections of stained-glass panel, except one or several, for which is necessary one and the same paint. The intensity of the color of paint is regulated by the dilution and the number it is layer spraying.
- Into the aerograph pours necessary paint (Transparent by WACO in our case) with the diluent (Thinner-21).
- Is spray-coated paint in the open section of stained-glass panel from the rough processed side of glass. Paint solidly couples with the grains on the glass, in spite of sufficiently strong dilution.
- Clarifier (Clair-01) is not used.
- White paint also barely they use, but leave the not colored (white) sections of glass.
- If it is necessary to increase the brightness of color, after partial drying spraying the same paint is repeated.
- After drying (5-10 minutes in air) are glued up the painted sections and they unstick film from other sections of stained-glass panel.
- Is repeated the procedure of spraying the paint of another color.
- After the dyeing of all sections of stained-glass panel is taken film from the unprocessed (transparent) strips of glass.
- They stick lead strip along the transparent outlines on the smooth side of glass (by the not processed sand blasting).
- They press and smooth out lead strip along the lines at first by fingers, and then by plastic or wooden trowel.
It is everything.
Artificial stained-glass window in the style Of Tiffani is ready.
Technology is sufficiently labor-consuming, although is much less labor-consuming than with the creation of real stained-glass window.
In the workday it is possible to create the stained-glass panel of average sizes.
After drying the paint does not fear water.
It is possible to place stained-glass panel in the window (by colorful layer inward), in the bath room, in the doors, etc.

Composed by Vitaly Eremenko

Page Top
The Site first published at July 11, 2004.
Copyright ©2004 - 2023 www.Violtan.com