Art Creation Gouache 24x12ml
[ArtCreation]
Set of 24 Gouache colors in tubes 12 ml. Talens, Holland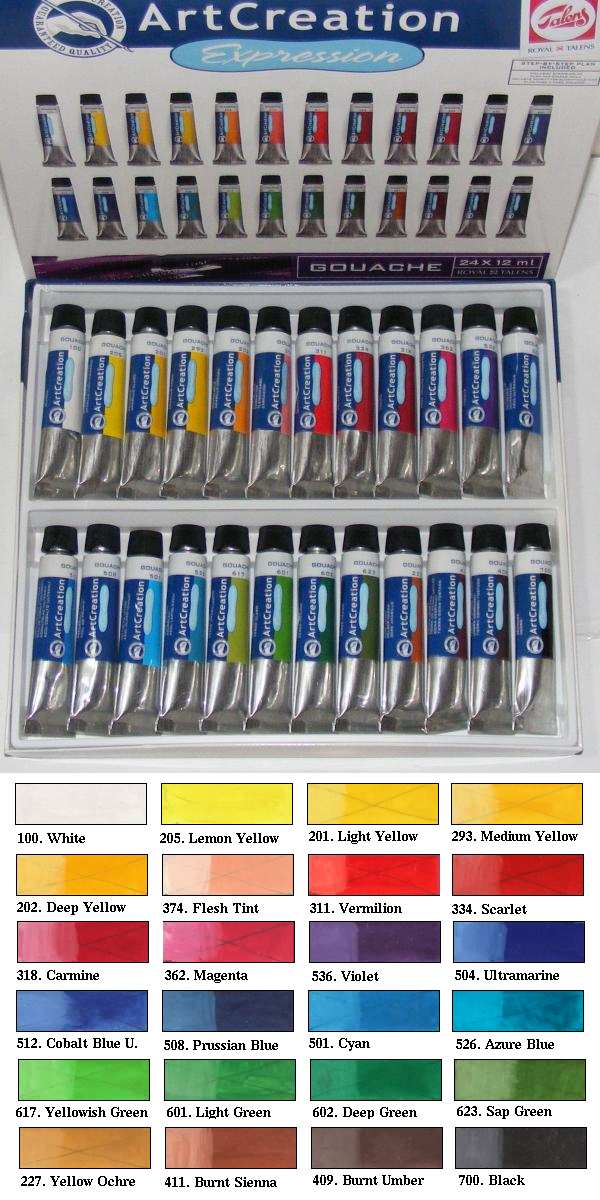 // Art Creation Expression Gouache set 24 x 12 ml.
Step-by-step plan included.
ArtCreation Expression offers you the opportunity to express your creative ideas simply.
It is a reliably quality paint and is easy to use.
It is inspiring to work with, and delightful to receive as a gift.
Expressive, as well as good quality choice for starting artists.
ArtCreation Expression has a step-by-step plan which helps you in realizing your ideas.

The composition:

100. White

205. Lemon Yellow (Primary)

201. Light Yellow

293. Medium Yellow

202. Deep Yellow

374. Flesh Tint

311. Vermilion

334. Scarlet

318. Carmine

362. Deep Rose (Magenta)

536. Violet

504. Ultramarine

512. Cobalt Blue (Ultram.)

508. Prussian Blue

501. Light Blue (Cyan)

526. Azure Blue

617. Yellowish Green

601. Light Green

602. Deep Green

623. Sap Green

227. Yellow Ochre

411. Burnt Sienna

409. Burnt Umber

700. Black
24 colors in Tubes 12 ml (0.41 oz)
Royal Talens, Holland
12ml x 24 / 650 g Royal-Talens
ArtCreation