Soft Pastel 36 Reeves
[Reeves]
Soft Pastels for artists and hobby. Size of each chalk 65x10x10mm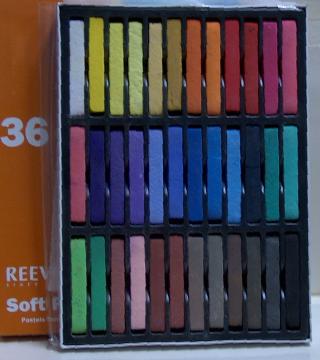 Reeves Soft Pastels are made with high quality pigments.
Perfect for colour blending and are suitable for use on textured paper or card.
Reeves soft pastels offer:
- Vibrant strong colours
- Good lightfastness
- Soft and easy to apply
- Easily blended
Since 1766, Reeves has been synonymous with the manufacture
of excellent quality fine art and education products.
In a continuing quest for product improvement,
Reeves combine the most recent technological advances with 200 years
of manufacturing experience.
Notes of Violtan:
This Set of pastels has very low price for one unit with a good quality.
Soft pastel of Reeves has 3-5 times less prices that ones from other known companies.
510 gr / 550 g Reeves
Reeves