Oil Pastels Panda 48
[Talens Pastels]
Fine Quality Oil Pastels, 48 colors. The size of each chalk 70xd10.5mm. Talens, Holland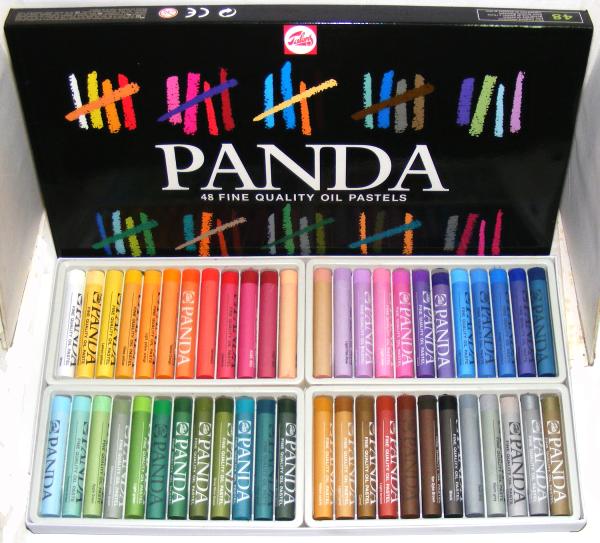 Oil soft Pastels Panda, set 48 colors, 70x10.5mm each chalk.
- Soft quality of fine oil pastels.
- Can be exellently combined in techniques with gouache, poster colour,
water colour, in the so-called 'repelling technique' with Ecoline (Talens);
also for use in the scrating technique with Opaque black.
- Suitable for various grounds such as paper, board, wood, drawing foil,
unglazed earthenware, fabrics and stone.
See here
Colors Chart

Composition of the set.
Colors order correspond to package on the photo.

White

Ivory Yellow

Lemon Yellow

Deep Yellow

Light Yellow Orange

Yellow Orange

Orange

Vermilion

Carmine

Rose Red

Deep Red

Flesh Tint


Orange Ochre

Light Pale Rose

Pastel Red

Light Rose

Cherry Pink

Violet

Blue Violet

Light Blue

Sky Blue

Cobalt Blue Ultram.

Ultramarine

Prussian Blue


Pale Blue

Turquouise Green

Apple Green

Chromium Oxide Green

Light Green

Green

Moss Green

Olive Green

Deep Olive Green

Light Blue Green

Deep Green

Grey Moss Green


Yellow Ochre

Light Camel

Camel

Light Brown

Deep Brown

Van Dycke Brown

Black

Deep Grey

Warm Grey

Dusty Pink

Silver

Gold
Royal Talens, Holland
548 gr / 555 g Royal-Talens
Talens Pastels