Oil Pastels FC 36
[Faber-Castell]
Creative studio quality Oil Pastels. 36 colors. The size of each chalk 70 x d10mm round shape. Faber-Castell, Germany.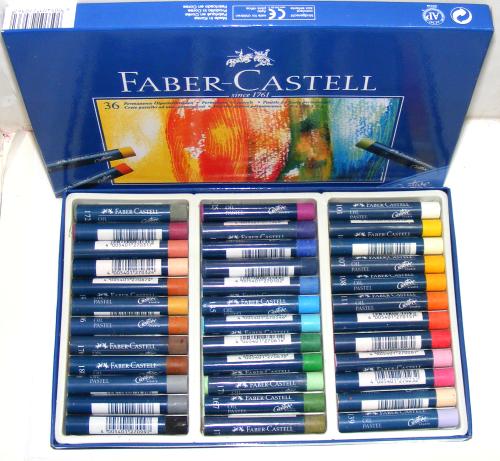 // Faber-Castell Creative Studio Oil Pastel.
Studio Quality Oil Pastel, set 36 colors.
Mix and merge.
These brilliant colors can be mixed to form an unlimited number
of new shades, or simply merged by wiping with a finger.
Scrape.
The high pigment density means that specials graffito technuques can be used.
Even beginners can achieve interesting effects in this way.
Working over with solvents.
By using turpentine or white spirit,
you can achieve effects similar to oil painting, tempera, or even watercolours.

The Composition:

101. White

105. Light Cadmium Yellow

102. Cream

107. Cadmium Yellow

108. Dark Cadmium Yellow

111. Cadmium Orange

115. Dark Cadmium Orange

127. Pink Carmine

128. Light Purple Pink

123. Fuchsia

129. Pink Madder Lake

139. Light Violet

125. Middle Purple Pink

136. Purple Violet

151. Helioblue-Reddish

143. Cobalt Blue

110. Phthalo Blue

145. Light Phthalo Blue

154. Light Cobalt Turquoise

161. Phthalo Green

163. Emerald Green

171. Light Green

167. Permanent Green Olive

173. Olive Green Yellowish

172. Earth Green

130. Dark Flesh

131. Medium Flesh

132. Light Flesh

187. Burnt Ochre

186. Terracotta

184. Dark Naples Ochre

180. Raw Umber

176. Van Dyck Brown

231. Cool Grey 2

231. Cool Grey 4

199. Black
Acid Free.
Lightfast.
Made in Korea.
Faber-Castell, Germany
488 gr / 495 g Faber-Castell
Faber-Castell