Pebeo Acrylic Color Studio 20x20ml
[Pebeo Art-Colors]
Pebeo Artist Acrylic colors High Viscosity: 20 colors x 20 ml tubes + 1 Shaper. (20 x 0.678 oz). Made in PRC by Pebeo, France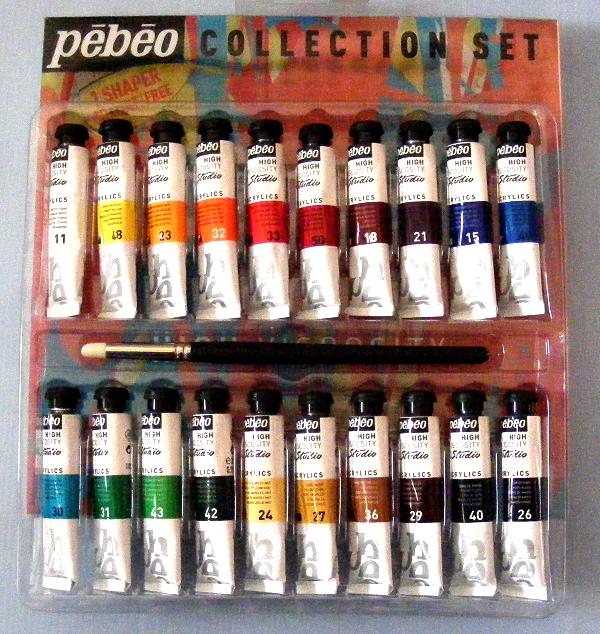 High Viscosity Studio Acrylic is a satin acrylic which is particularly
well suited to work with materials and in relief.
The colour can be used directly from the tube or with Pebeo acrylic mediums.
It adheres strongly and is indelible when dry.
The Studio acrylic colours:
- Three true primary colors;
- A paste consistency from one color to another for easy mixing;
- Once dry, an identical matt satin finish from one color to another.
Transparency:
O - Opaque;
ST - Semi-Transparent (Semi-Opaque);
T - Transparent.
** - Medium Lightfastness.
*** - High Lightfastness.
Pxxx - Pigment international index.

The composition of Set:

Titanium White 11***O, PW6

Primary Yellow 48***ST, PW6/PY74

Cadmium Yellow Medium hue 23***ST, PW6/PY83/PO13/PY12

Cadmium Orange hue 32**ST, PR112/PR22/PW6

Cadmium Red hue 33**O, PR112/PR22/PW6

Primary Magenta 50**T, PR19/PR146

Naphtol Carmine 18**T, PR146/PV23/PO13

Oriental Violet 21**T, PV23/PR19/PB15:3

Dark Ultramarine Blue 15***T, PB29/PV19/PB15:3

Primary Cyan 49***ST, PW6/PB15:3

Turquoise Blue 30***O, PW6/PB15:3/PG7

Veronese Green 31***O, PW6/PB15:3/PY184

Cadmium Green hue 43**ST, PW6/PG7/PY11

Phthalocyanine Green 42***T, PG7

Naples Yellow hue 24***O, PW6/PY74/PY42

Yellow Ochre 27***O, PY42

Raw Sienna 36***O, PY42/PR101/PBk11

Burnt Umber 29***O, PR101/PBk11/PBk7/PR22

Payne's Grey 40***O, PB29/PBk7

Mars Black 26***O, PBk7/PBk11

Shaper
Made in PRC by Pebeo, France
20*20ml / 710 g Pebeo
Pebeo Art-Colors
Acrylic in Sets