Permanent Violet Reddish 60ml
[ST***465, PV19/PV23, s2]
[Maimeri Classico oil paints]
Fine oil paint for professional painter, student or amateur. Tube 60 ml (2.03 fl.oz)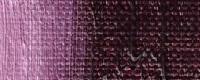 Maimeri Classico oil paints.
Extrafine oil colours for professional painters, students and amateurs.
The good quality/price ratio.
Classico Oil Colors are made with non-toxic, non-polluting pigments that improve lightfastness.
Authentic cadmium pigments in concentrations of 20% to 25%.
Average pigment concentration is very high,
Of the 77 colours, 73 have maximum stability to light.
All colors may be intermixed in any ratio or proportion, without limits.
Manufacturer adds to paints the finest linseed or safflower oil.
Absolutely no waxes or additives.
Designations in our Catalog:
*** - High lightfastness
** - Medium lightfastness
O - Opaque color
ST - Semi-transparent color
T - Transparent color
s1-s3 - Series (group) 1-3
77 colours in tubes.
Maimeri, Italy
60 ml / 93 g Maimeri
Maimeri Classico oil paints