Warm Green
[534**]
[L&B Vitrail]
Transparent Paint for glass, ceramics and metal. 50 ml (1.7 fl.oz).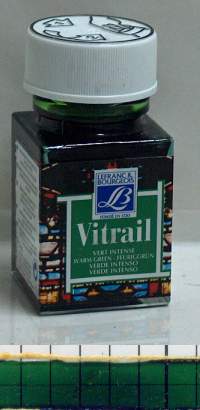 L&B Vitrail
Transparent paint for use on glass, ceramics and metal.
Clean surface with methylated spirit before painting.
Solvent based paint.
NOTES:
1. Harmful to aquatic organisms, may cause long-term adverse effects in the aquatic environment.
Repeated exposure may cause skin dryness or cracking.
Vapours may cause drowsiness and dizziness.
2. Keep out of reach of children. .
3. White and Black colors are hiding (opaque).
Violtan Notes:
1. Diluent for thickened paint - regular mineral turpentine (white spirit).
2. Use colorless transparent paint to produce less intensity color without loss its properties.
3. Clean surface before work or brushes after work with turpentine
(white spirit) or alcohol 40-96%, and dry surface.
Even warm water with soap may be used to clean surface before work.
4. Diluent for Paint - white-spirit (turpentine).
Lefranc & Bourgeois, France
50 ml / 157 g Lefranc & Bourgeois
L&B Vitrail