Gold Yellow
[176]
[L&B CeramiC Paints]
Opaque gloss Paint for glass, ceramics and metal. 50 ml (1.68 fl.oz).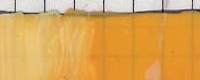 L&B Vitrail
Opaque gloss paint for use on glass, ceramics and metal.
Clean surface with methylated spirit before painting.
Shake well before use.
Solvent based.
Flammable.
Harmful to aquatic organisms, may cause long-term adverse effects in the aquatic environment.
Repeated exposure may cause skin dryness or cracking.
Vapours may cause drowsiness and dizziness.
Keep out of reach of children.
Lefranc & Bourgeois, France
NOTES:
1. These paints can be recommended for professional use
2. Before ordering these paints by air-mail, call your post office about rules for small bottles with flammable paints.
We send it by registered air-mail or surface mail (not by EMS).
Each parcel for air-mail should be up to 2 kg gross.
Air-mail with flammable materials disabled in Canada
.
3. We can send these paints by surface (sea-) mail, if your order weight cargo is above 1800 g
4. Diluent - regular (mineral) turpentine.
50 ml / 160 g Lefranc & Bourgeois
L&B CeramiC Paints