Quinacridone Rose
[47***T]
[Hoenig Acrylic PRO]
PV19. Professional Acrylic Colours for Artists. Transparent plastic Tube 120 ml (4 oz).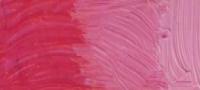 Hoenig Acrylic PRO
Hoenig Professional acrylic colors were created especially for experienced artists
and amateurs who demand quality brush marks and more vivacious gloss.
Professional colors are available in a widest variety of hues offering
the most important shades for use and packaged in transparent tubes containing 120 ml of paint.
Almost any desired shade can be matched by completing simple mixture process.
Professional colors are manufactured from pure acrylates and selected pigments.
Professional colors contain no ingredients liable to endanger the environment.
Professional colors can be applied to any surface except smooth, oily or greasy exteriors.
The paint can be diluted with water or with acrylic gel or medium.
Brushes should be rinsed in water and kept moist to prevent plastification.
The paint dries to form a water-resistant shiny film.
Non toxic.
Ready to use.
44 colors + 6 metallic + 4 special gel/medium.
120 ml plastic transparent tube (4 fl.oz.)
Hoenig Art Colours Ltd., Israel
120 ml / 140 g Hoenig (Hönig) Art Colours Ltd.
Hoenig Acrylic PRO