Turquoise Blue
[891**T PB1+PY3]
[Ferrario Liquarell]
Profesional Transparent Liquid Watercolour for painting and drawing. 50 ml (1.7 fl.oz).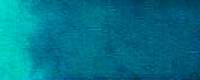 Liquid water colours for professional use.
Liquarell colours are liquid watercolours rady for use
and particularly suitable for technical drawing and graphics.
They dry up very quickly and evenly with no spots or streaks.
They are made from synthetic resin and good-quality, lightfast dyes
in a water solution.
The range includes 28 transparent and 2 opaque colours (White and Black)
that mix perfectly together to produce countless shades.
Extremely bright and vivid, these colours can be diluted in water
to obtain softer shades, or added with White 871 to obtain pastel shades.
Their lightfastness - though quite good - is equivalent to that of dyes.
Therefore, the finished work should not be exposed directly to sunlight for too long.
Liquarell colours can be applied by means of paintbrushes
or using a drawing pen or spray gun.
The ideal support is watercolour paper, but even cardboard, thin pasteboard
or other types of paper can be used.
Liquarell colours are also suitable for photographic reproduction
or non-wave photographic paper retouching.
Moreover, the three primary colours ensure good results in four-colour printing.
*** Absolute warranty of lightfastness
** Middle warranty of lightfastness
O - Opaque color
T - Transparent Color
Ferrario, Italy
50 ml / 65 g Ferrario
Ferrario Liquarell
Liquid Water-Color