Raspberry Red
[UF03]
[DecoArt UltraFrost paints]
Semi-transparent paint with frost effect for glass and tile. 29.6 ml (1 fl.oz.)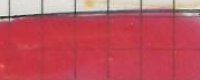 Transparent paint with Frost effect for glass, tile & more.
Ultra Frost is translucent frosted paint for adding elegance to glass, tile, plastic and glazed ceramics.
Like DecoArt Ultra Gloss, it may be baked in the home oven for added durability.
Shake well.
Clean surface with vinegar and water.
Do not mix or thin paint with water.
Can be applied with a clean, dry brush or a smooth sponge such as UltraFrost Sponge applicator.
Air dry 7 days before hand washing with mild soap and water.
Do not soak.
Non-toxic.
Conforms to ASTM D4236.
Do not freeze.
Bottle 29.6 ml (1 fl.oz.) with Nozzle.
DecoArt, USA
Violtan Notes:
1. Clean Brushes with water after work.
2. Air-Dry time to touch: 3-4 hours.
3. Paint can be mixed each in other.
4. Paint may be applied without outliners due to high viscosity.
5. Transparency of the paints you may see on the samples in our catalog below.
The samples are drawn on the transparent sheet of plexiglass and scanned above
paper with rectangles.
30 ml / 45 g DecoArt
DecoArt UltraFrost paints