Canvas Gel Medium
[DS5]
[DecoArt]
Makes acrylics perform like oils, 59 ml (2 oz)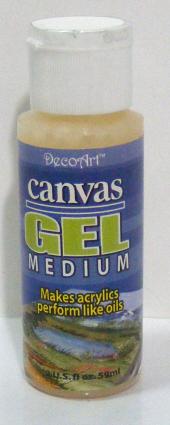 // Mix Canvas Gel with acrylics or crafter's acrylic
to create the look and feel of oil paint.
Canvas Gel extends drying time and enables layering of paint on canvas.
Option 1:
Moisten desired area with Canvas Gel and brush out smoothly.
Add acrylic color into the moistened area and blend to soften appearance.
Option 2:
Brush mix small amount of Canvas Gel into brush,
then into the desired color.
Apply to canvas and blend as needed.
Water-activated.
Use spray sealer to seal or varnish.
Non-toxic.
Soap and water clean-up.
DecoArt, USA
59 ml / 73 g DecoArt
DecoArt
Medium for Decorative Paints