Antique Blue
[563]
[DecorFin Patina]
Paint for transparent patinating objects to produce antique look. 16 ml (0.54 fl.oz)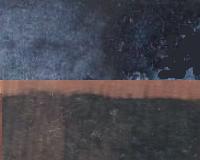 DecorFin Patina - Antique Effect.
16 ml jar
Paint for patinating objects (giving an antique look).
Decorfin Patina helps you give objects an "antique" look.
A versatile decorating paint, based on oil paint.
Choice of so-called 6 antique colours.
Objects such as mirror and frames can be "antiqued ".
It is also great for glass, stone, metal and wood.
Stir paint before use.
Apply Patina with a soft, non-fluffy cloth, brush or sponge,
and then rub out into a thin coat.
For optimum adhesion, the surface must be dust and grease-free.
Clean brush or sponge with white-spirit.
Antique Colour dries in approximately 10 minutes.
After approximately 2 days the Patina is dry and if required can be
varnished with Decorfin Varnish Satin or Varnish Gloss.
The most striking results are achieved when the object itself has a
base colour, for example in Universal Satin or Universal Gloss,
which is visible through the Patina.
The paint applies evenly and without brushstrokes.
Spontaneous combustion.
Used cloths should be first moistened with water and disposed in a closed dustbin.
Royal Talens, Holland
16 ml / 62 g Royal-Talens
DecorFin Patina
Decorative Paint