Amsterdam Acrylic 72x20ml
[Art.178204720-2012]
[Amsterdam Acrylic]
Artistic Acrylic Amsterdam Standard Series 72 tubes x 20ml (72x0.7 fl.oz). Carton box 553x348x33mm. Royal Talens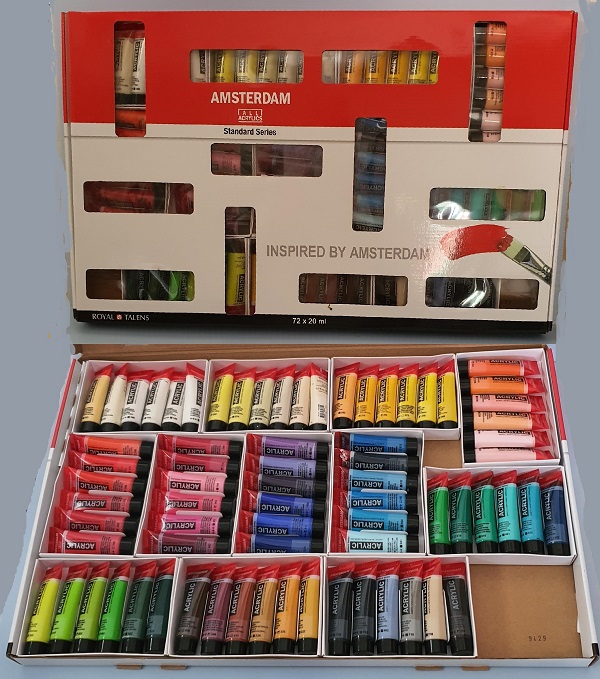 Amsterdam Acrylic Standard series offers everything an acrylic painter needs.
An excellent quality acrylic paints and an enormous range of colours.
This set contains all 70 colours of the standard series + 2 extra tubes of white.
- Ready to use, intermixable.
- Well-balanced range of 70 colours, with a high degree of lightfastness
- A high to very high level of lightfastness, thanks to the use of pure and non-fading pigments.
- Use on paper, cardboard, canvas, wood.
These acrylic paints are easy to use for the beginning or experienced artist.
They can be mixed with water or mediums, and clean up requires only soap and water.
They are quick drying and non-toxic.
Degree of Lightfastness:
+++ - 100 years completely lightfast under museum conditions (56 colors)
++ - 25-100 years lightfast under museum conditions (14 colors)
The lightfastness of all these colors has been tested in accordance with ASTM Standard D4303.
Opacity / Transparency
(in Violtan.com catalog):
TR or T - Transparent (8 colors). Small colourless square on Tube.
ST - Semi-Transparent (8 colors). Crossed colourless square.
SO - Semi-Opaque (23 colors). Colourless/Black square.
OP or O - Opaque (31 colors). Small Black square.
Transparent plastic Tube 20 ml (0.7 fl.oz.)

The Composition:

Titanium White. 105+++OP, PW6, 4 tubes

Naples Yellow Light. 222+++OP, PW6/PY42

Titanium Buff Light. 289+++OP, PW6/PY42


Naples Yellow Red Light. 292+++OP, PW6/PY42/PR101

Titanium Buff Deep. 290+++OP, PW6/PR101/PBk11

Naples Yellow Deep. 223+++OP, PW6/PBr24/PY154

Naples Yellow Green. 282+++OP, PW6/PY42/PG7

Nickel Titan Yellow. 274+++OP, PY53

Azo Yellow Lemon. 267++SO, PY3


Azo Yellow Light. 268++SO, PY74

Primary Yellow. 275++SO, PY3/PY74

Transparent Yellow Medium. 272+++TR, PY128

Azo Yellow Medium. 269++SO, PY74

Azo Yellow Deep. 270++SO, PY74/PO34

Gold Yellow. 253++OP, PY74/PO34/PW6


Light Rose. 361+++OP, PV19/PW6

Persian Rose. 330+++OP, PW6/PV19/PR101

Naples Yellow Red. 224+++OP, PW6/PBr24/PO73

Venetian Rose. 316++OP, PW6/PR112/PY42

Azo Orange. 276++SO, PO34/PY74

Vermilion. 311++SO, PO34/PY74


Naphthol Red Light. 398++SO, PR112/PY74

Pirrole Red. 315+++SO, PR254

Naphthol Red Medium. 396++SO, PR112

Transparent Red Medium. 317+++TR, PR209

Naphthol Red Deep. 399++SO, PR112/PR23

Permanent Red Purple. 348+++ST, PV19


Quinacridone Rose Light. 385+++OP, PV19/PW6

Quinacridone Rose. 366+++SO, PV19

Primary Magenta. 369+++TR, PV19

Permanent Red Violet Light. 577+++OP, PR122/PW6

Carmine. 318++SO, PR23

Permanent Red Violet. 567+++TR, PV19/PV23


Ultramarine Violet. 507+++OP, PV15/PW6

Ultramarine Violet Light. 519+++OP, PW6/PB29

Permanent Blue Violet. 568+++ST, PV23/PV19

Ultramarine. 504+++TR, PB29

Cobalt Blue Ultramarine. 512+++SO, PB29

Phthalo Blue. 570+++TR, PB15


Primary Cyan. 572+++ST, PB15/PW6

Prussian Blue Phthalo. 566+++ST, PB15/PBk7

Sky Blue Light. 551+++OP, PW6/PB15/PG7

King's Blue. 517+++OP, PW6/PB15

Manganese Blue Phthalo. 582+++ST, PB15/PG7

Brilliant Blue. 564+++OP, PB15/PG7/PW6


Greenish Blue. 557+++TR, PB15/PG7

Turquoise Blue. 522+++OP, PB15/PG7/PW6

Turquoise Green. 661+++OP, PW6/PG7/PB15

Emerald Green. 615+++OP, PG7/PY74/PW6

Permanent Green Deep. 619+++ST, PG7/PY74

Permanent Green Light. 618+++SO, PG7/PY74


Sap Green. 623++TR, PG8

Olive Green Deep. 622+++OP, PG7/PY42/PR101

Brilliant Green. 605+++SO, PG7/PY74

Yellowish Green. 617+++SO, PG7/PY74

Olive Green Light. 621+++SO, PG7/PY74/PY42

Greenish Yellow. 243+++SO, PY74/PG7


Yellow Ochre. 227+++OP, PY42

Gold Ochre. 231+++SO, PR101/PY74

Raw Sienna. 234+++OP, PY42

Burnt Sienna. 411+++ST, PR101

Caput Mortuum Violet. 344+++SO, PV19/PBk7/PW6

Burnt Umber. 409+++ST, PR101/PBk11


Vandyke Brown. 403+++SO, PBk11/PR101

Warm Grey. 718+++OP, PW6/PBk11/PR101

Neutral Grewy. 710+++OP, PW6/PBk7/PY42

Greyish Blue. 562+++OP, PW6/PB15/PBk7

Lamp Black. 702+++OP, PBk7

Oxide Black. 735+++OP, PBk11

Royal-Talens, Netherlads. Set assembled in China
72x20ml / 2540 g Royal-Talens
Amsterdam Acrylic
Acrylic in Sets