Violet 20
[536++ST, PV23/PV19 s1]
[Van-Gogh Oil Paints]
PV23/PV19: Artists oil colour, Tube 20 ml (0.67 fl.oz)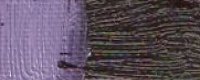 Van-Gogh Oil
Van Gogh Oil Colours meet to the requirements of the beginners and advanced amateur artists.
The main properties:
* Strong and brilliant colours
* Uniform degree of gloss and drying time
* Retains colour integrity for a long time thanks to lightfast pigments
Due to the buttery consistence of the paint Brush strokes remain very visible and the paint stais in place.
Other strong points of Van Gogh Oil Colour are an equal drying time for all colours
and a uniform degree of gloss (so that even mixed colours have an identical appearance after drying).
The colors range has opaque and transparent colours, in order to create depth effects in the painting.
Transparent colours are ideal for use in glazing paintings.
All colours are manufactured from high quality pure pigments ground in pure linseed or safflower oil.
The lightfastness varies from good to very good, so that paintings have the same colours after decades,
as the day on which they were painted.
Degree of Lightfastness:
+++ = 100 years completely lightfast under museum conditions
++ = 25-100 years lightfast under museum conditions
+ = 10-25 years lightfast under museum conditions
o = 0-10 years lightfast under museum conditions
Opacity:
T = Transparent (14 colors)
ST = Semi-Transparent (10 colors)
SO = Semi-Opaque (19 colors)
O = Opaque (23 colors)
66 colors.
Royal Talens, Holland
20 ml / 45 g Royal-Talens
Van-Gogh Oil Paints