Art Creation Soft Pastels 36
[ArtCreation]
Soft pastels with vivid and intense colors. Squre shape suitable for details and large areas. 36 colors, 10x10x70 mm. Royal Talens, Netherlands. Made in China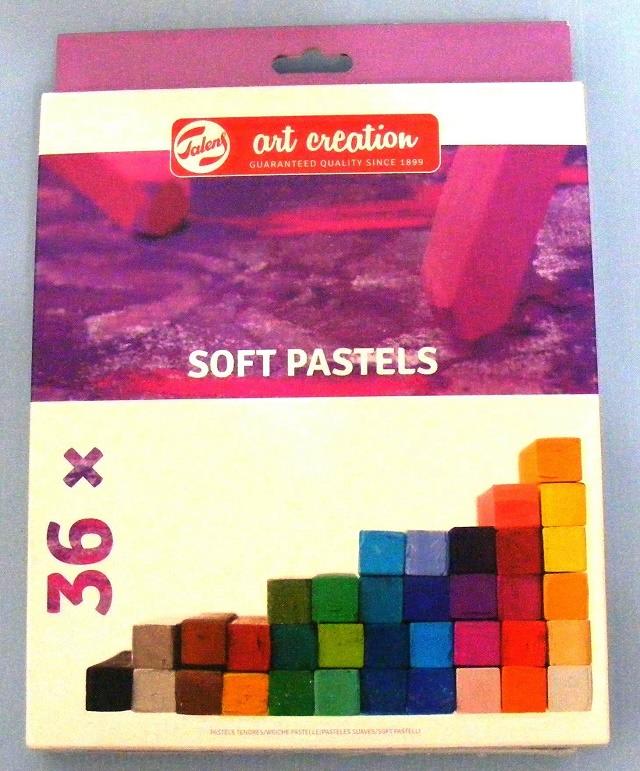 Talens Art-Creation makes it easy for you to capture your creative ideas.
Soft pastels are made with high quality pigments offering vivid and intense colours, which are easy to apply and blend.
The squre shape makes them suitable for both detailed work and large areas.
They can be used on any textured surface, such as paper and cardboard.
The ideal material with which to experiment.
Violtan Notes:
Manufacturer gives only XXX-code of colors.
Unfortunately
no color names for this set
even on its site.
We get correspond names by codes from other production of Talens.
No guarantee, that all color names are true.

Contents: 36 pastels

100-White

222-Naples Yellow Light

292-Naples Yellow Red Light

205-Lemon Yellow (Primary)

200-Yellow

202-Deep Yellow

235-Orange

398-Naphthol Red Light

337-Pink ?

318-Carmine

316-Venetian Red

374-Flesh Tint

546-Rose Light ?

536-Violet

548-Blue Violet

570-Phthalo Blue

535-Cerulean Blue Phthalo

504-Ultramarine

505-Ultramarine Light

566-Prussian Blue Phthalo

522-Turquoise Blue

640-Bluish Green

551-Sky Blue Light

678-Turquoise Green Light ?

617-Yellowish Green

675-Phthalo Green

615-Emerald Green

602-Deep Green

668-Chromium Oxide Green

227-Yellow Ochre

411-Burnt Sienna

408-Raw Umber

409-Burnt Umber

705-Light Grey ?

706-Warm Grey ?

700-Black
Royal Talens, Netherlands. Made in China
576g / 585 g Royal-Talens
ArtCreation
Soft dry Pastels and Chalks