Oil Pastels Reeves 24
[Reeves]
Large Oil Pastels set, 24 colors. The size of each chalk 70xd10.5 mm.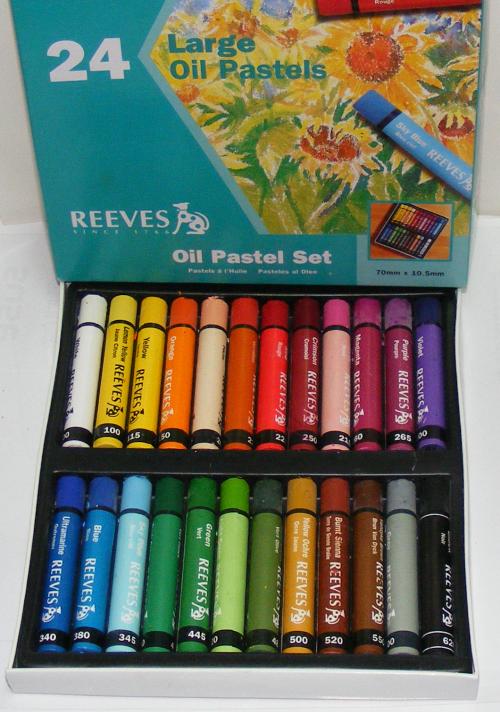 Oil Pastels Reeves 24 colors.
Reeves oil pastels are made with high quality pigments
Prefect for color mixing thay can be used on a number of different surfaces.
The pastels offer vibrant strong colors.
Good lightfastness.
Soft and easy to apply.
Easy blended.
Since 1766, Reeves has been synonymous with the manufacture
of exellent quality fine art & education products.
In a continuing quest for product improvement, Reeves combine
the most recent technological advances with 240 years of manufacturing experience.
The Composition:
700. White
100. Lemon Yellow
115. Yellow
150. Orange
205. Peach
220. Vermilion
225. Red
250. Crimson
215. Pink
260. Magenta
265. Purple
300. Violet
340. Ultramarine
380. Blue
345. Sky Blue
490. Dark Green
445. Green
420. Light Green
485. Olive Green
500. Yellow Ochre
520. Burnt Sienna
550. Vandyke Brown
600. Grey
620. Black
Reeves, England. Made under licence for Reeves in China
270 gr / 280 g Reeves
Reeves