Oil Pastels Lyra 25
[Other Companies]
Artistic Oil Pastels for school and studio use, 25 colors. Size of each chalk 57.5xd8.5mm. Lyra, Germany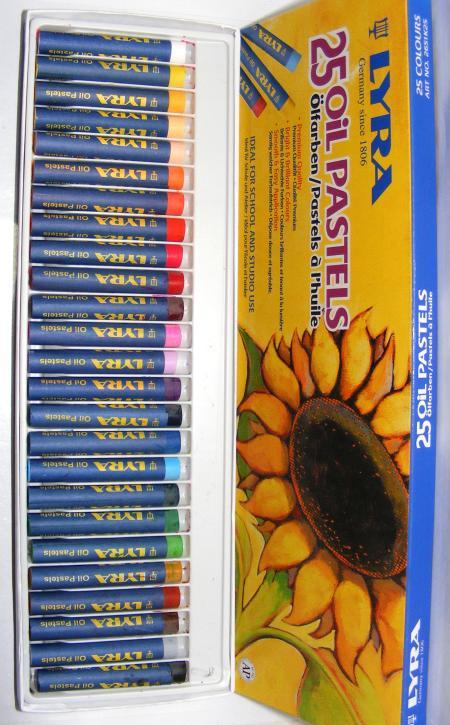 25 Oil Pastels
Ideal for scholl and studio use.
Premium Quality.
Bright and Brilliant colors.
Smooth and Easy Application.
Recommended techniques.
LYRA Oil Pastels are made from the highhest quality colour pigments.
Perfect for colour blending and colour mixing.
Non-toxic.
Safe for children.
Blending.
Rub two colors together, by using your fingers
or by working the pastels into each other to create another colour.
Scratching.
Overlay a dark colour on light, bright colours.
Scratch designs and patterns on the top layer to reveal the bright colours below.
Water-Resist.
Create fun and fancy effects by using the oil pastels as a resist
and painting over the designs with watercolours or water-based dyes.
The Composition:
1. White
2. Lemon Yellow
3. Yellow
4. Light Flesh
5. Flesh
6. Yellow Orange
7. Orange
8. Vermilion
9. Brilliant Red
10. Red
11. Red Purple
12. Pink
13. Light Violet
14. Purple
15. Deep Blue
16. Blue
17. Sky Blue
18. Blue Green
19. Green
20. Yellow Green
21. Golden Ochre
22. Brown
23. Dark Brown
24. Grey
25. Black
Lyra since 1806, Germany
157 gr / 165 g Other Companies
Other Companies
Oil Pastels