Oil Pastels Accent 48
[Other Companies]
Artist Quality Jumbo Oil Pastels, 48 colors. Size of each chalk 70xd11mm. Non-Toxic, safe for Children. Accent by High Line, Sri Lanka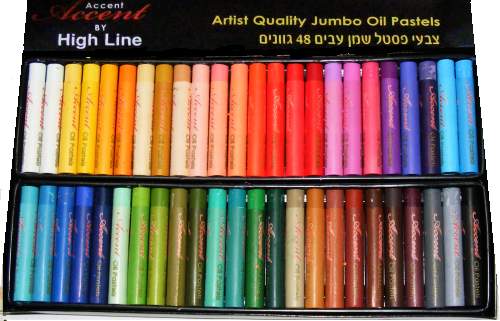 These oil pastels have excellent durability and can be used on a variety of surfaces,
including plain and colored paper, card and canvas.
They can also be used in different ways
- dry for drawing
or when used with turpentine colors, can be blendend with a brush,
offering endless creative possibilities.
For best results, all pastels should be cleaned by wipping the ends with kitchen paper
or with a cloth soaked in turpentine.
Some colors may stain.
During all creative activities, we suggest that you wear overalls
and/or old clothes and you cover furnishings and flooring.
Contents may vary.
Please retain this information for future reference.
Non-toxic, safe for Children above 3 years old.
Conforms to ASTM D 4236.
Accent by High Line, Sri Lanka
445 gr / 460 g Other Companies
Other Companies
Oil Pastels