Pink
[50]
[H-L Glass Color]
Transparent Water-based paint for glass, 50 ml. (1.68 fl.oz.)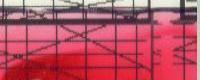 Hobby Line Glass Color.
Acrylic Glass Painting Color.
50 ml.
Trasparent, high-gloss, water-based glass painting color.
Mixable together, with good light and water-resistance,
weather-proof onto non-absorbent ground.
For decorations on Glass, china, ceramics, acrylic, metal, metallic foil, mirrors...
The ground should be dust- and fat-free.
Brighten up with glass painting colors (#42601).
Burnable up to 160°C (320°F) for 30 minutes.
Dry in the open air for several hours (at least 4h) before baking.
Dishwasher safe after burning
.
Stir prior to use, but do not shake.
Immediately clean paint brushes with water.
Protect from frost and heat !
C.Kreul, Germany
50 ml / 140 g C.Kreul
H-L Glass Color