Brown
[DecoArt Glass Stain paints]
Transparent gloss water-based paint for glass and plastic. 29.6 ml (1 fl.oz.)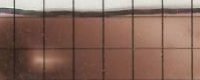 Transparent Gloss water-based Paints for Glass and Plastic.
Permanent, transparent colors with a glossy sheen ideal for filling suncatchers or staining
on glass or clear plastic.
To make more transparent, mix with Clear.
Use DecoMagic for cleanup.
Cover work area before use.
Bottle 29.6 ml (1 fl.oz.) with Nozzle.
DecoArt, USA
Violtan Notes:
1. You can clean surface before work with alcohol or warm water with soap.
2. You can use soft brush for water-color or even hard brush for oil paints
to fill out big area instead of the nozzle for thin lines.
2. Touch-dry time 2-4 hours depend on thickness of layer.
30 ml / 45 g DecoArt
DecoArt Glass Stain paints