Gelatos Crayons glide 12
[Faber-Castell]
Luscious Gelatos Crayons glide on creamy vibrant color and blend with/without water. 12 colors, D14 x L77 mm. Faber-Castell, made in China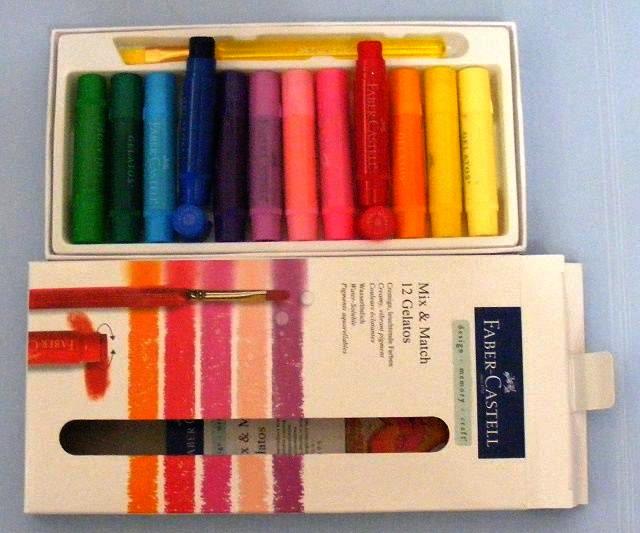 Design - Memory - Craft.
Mix & Match 12 Gelatos.
Creamy, vibrant pigment.
These luscious Gelatos crayons glide on creamy vibrant color
and blend beatifully with or without water.
They work great on surfaces like paper, canvas, wood or textile.
Whether used for painting, stamping or as spray - they are giving creativity limitless possibilities !
Water-soluble, Acid free, Odorless, Mix easily to form liquids.
Can be applied to paper, fabric, canvas and wood.
Ideal for use with stamps.

The Composition:

Butter Cream

Lemon

Orange

Red Cherry

Bubble Gum

Guava

Lavender

Grape

Blue Berry

Cotton Candy

Spearmint

Lime

Synthetic angle Brush W=7mm, S=12mm,
Triangular handle, Full Length 152 mm

Short manual in some languages (D, GB, F, E, I, TR, JP, KR).
Carton Box 217x110x20mm.
Faber Castell, Germany - made in China
230 gr / 240 g Faber-Castell
Faber-Castell