Artists Varnish Gloss
[882]
[Folkart Enamels]
Polyurethane protective sealer, non-yellowing. Varnish for acrylic paints. Gloss Finish. 59 ml (2 fl/oz.)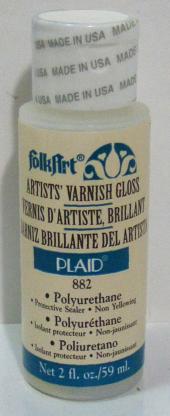 Polyurethane non-yellowing protecrive sealer.
FolkArt Artists Varnish is a superior quality varnish,
specially formulated to provide a beautiful finish
over FolkArt Acrylic colors or other acrylic paints.
DIRECTIONS:
Mix well.
Shake gently or roll botle on tabletop to mix.
Use soft bristle or sponge brush.
Apply to clean dry surface.
Wait 2 to 3 hours between coats.
Apply 2 or more coats as desired.
Clean up while wet with water.
Plaid, USA
59 ml / 72 g Plaid
Folkart Enamels