Edding porcelain brushpen, Set 6C
[0699]
[Different Companies]
Porcelain brushpen 160°C 1-4 mm. 6 'Cool' colors: Violet, Dark Blue, Light Blue, Phthalo Green, Light Green, Black. Carton 208x72x15mm. Edding, Made in Germany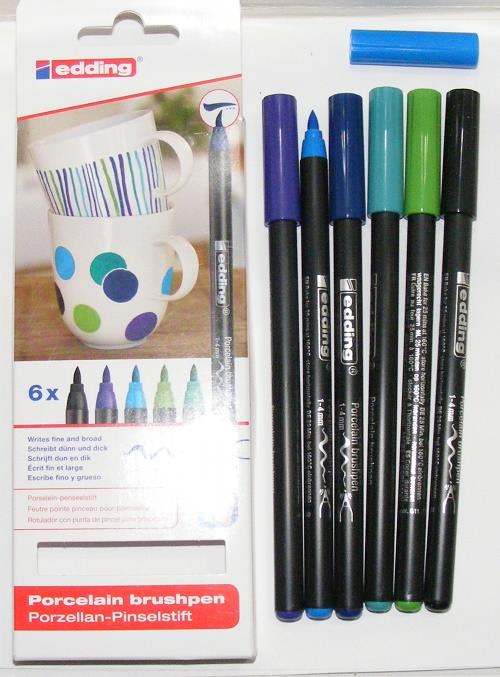 Edding Porcelain brushpen
1-4 mm 6 colors 4200/6S
Max.50°C.
Writes fine and board
Features:
- For use on porcelain, glazed ceramic, ovenproof glass.
- Dishwasher-safe after baking.
- Flexible brush tip for fine to broad brushstrokes.
- Creamy ink consistency for even colour distribution.
- No runs or drips, colours will not run together.
- Quick-drying, although corrections can still be made prior to backing.
Application:
- only apply to surfaces that are thoroughly clean (e.g. in a dishwasher)
and free from dust and grease.
- allow paint to dry for 15 minutes before backing.
- bake in a preheated oven for 25 minutes at 160°C, leave in oven to cool afterwards.
- only intended for use on surfaces that do not come into contact with food.
- store pen horizontally.
NOTE: Brushpen contains only color code of manufacturer.
We write our (visible) color names.
Set col.099 ("Cool colors"):


008. Violet brushpen

017. Dark Blue brushpen

010. Light Blue brushpen

014. Phthalo Green brushpen

011. Light Green brushpen

001. Black brushpen
Carton 208x72x15mm
Edding International GmbH, Made in Germany
62g / 67 g Other Companies
Different Companies
Brushpen for Porcelain