Water-Soluble Wax-Pastel 30 Caran d'Ache
[Other Companies]
Neocolor II Classic. Water-Soluble tranasparent wax pastels 30 colors (as watercolor pencils). L=104mm, D=7mm. Metal box. Caran d'Ache, Switzerland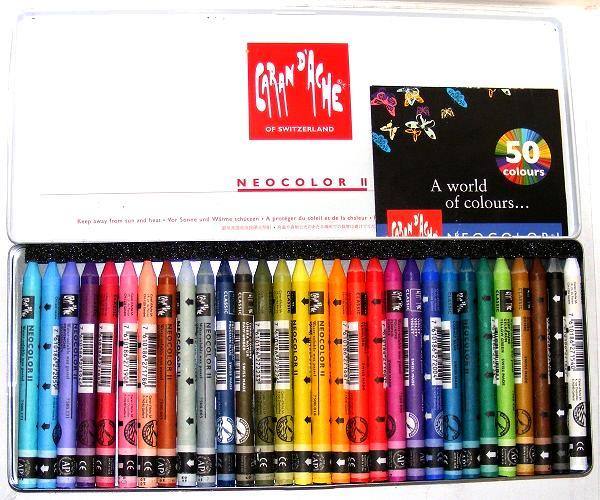 Suitable for numerous artistic techniques on a wide range of materials.
NEOCOLOR II water-soluble wax pastels are a product of Caran d'Ache innovation. They combine the expertise of a specialist in colours with the great "Swiss Made" tradition.
42 completely new colors created from original pigments extend the Caran d'Ache palette to 126 colors.
These are exceptional, both for their quality and the techniques they make possible.
This is the opportunity for all professional and amateur artists to fully express their talent and imagination.
Colors Chart
The Composition:
001. White
240. Lemon Yellow
010. Yellow
030. Orange
051. Salmon
060. Vermilion
070. Scarlet
081. Pink
080. Carmine
090. Purple
110. Lilac
120. Violet
131. Periwinkle Blue
140. Ultramarine
161. Light Blue
159. Prussian Blue
160. Cobalt Blue
171. Turquoise Blue
180. Malachite Green
210. Emerald Green
230. Yellow Green
245. Light Olive
249. Olive
049. Raw Umber
035. Ochre
065. Russet
059. Brown
003. Light Grey
005. Grey
009. Black
Keep away from sun and heat.
Caran d'Ache, Swiss made
417 g / 425 g Other Companies
Other Companies
Wax Crayons, WaxArell